University of Wisconsin - Whitewater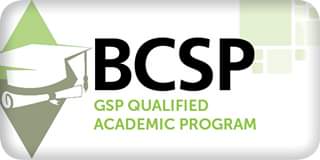 Degree: Bachelor of Science
Major: Occupational Safety
Emphasis: Environmental Management
Cumulative GPA: 3.7
Major GPA: 3.8
Graduation: August 19, 2018

♦ Certified Safety Professional (CSP)
♦ Graduate Safety Practitioner (GSP)
♦ Certified Industrial Ergonomic Evaluator (CIEE)
♦ Lean Six Sigma Yellow Belt
♦ Lean Six Sigma Orange Belt
♦NFPA 70E Certified Trainer
♦NSC First Aid, CPR, AED Trainer
♦ OSHA 30-Hour Construction Industry Outreach
♦ PHMSA/DOT Hazardous Material Certification
♦ Certified Fall Protection Equipment Inspector
♦ Powered Industrial Truck Train-the-Trainer
ASSP Student Safety Organization President – May, 2017 – May, 2018
Between the academic school year of May 2017-May 2018, Krystal was elected to be President for the ASSP Student Section Chapter for the University of Wisconsin – Whitewater.
During her time within this position she was very active throughout her role. Krystal devised, organized, and executed technical speaker meetings, program events such as the Scholarship Workshop, Student Safety Mentors and Mentees, Facility Visits, conference attendances and social events.
Facility visits consisted of Waukesha's Waste Water Treatment Plant, Vestas Wind Farm, Oshkosh Defense and Pierce's firetruck manufacturing facility.
Social events consisted of the Holiday Party with safety gingerbread house making, Kahoot with exam questions throughout courses, prizes and giveaways, bowling and pool, and dinner.
Krystal helped to recruit new student members by creating a recruitment schedule for each safety course and involvement fair. These recruitment sessions were brought on from Student Safety Organization Board Members Stacey Lam, Weston Paplham, Wendy Sales, and Zach Gelfand.
Working together with board members, Krystal promoted volunteer opportunities for student section members for participating in the Wisconsin Safety Council Conference, ASSE Golf Outing and Safety Career and Internship Fairs.
National Safety Council Scholarship

The NSC Congress & Expo is the world's premier annual safety event, bringing together 15,000 safety, health, and environmental professionals from various industries.
Krystal was among the first to be awarded in 2017. This newly created scholarship provides student members the opportunity to attend at no cost, with access to technical sessions, keynote addresses, and Expo of over 1,000 exhibitors and networking events.
ASSE Student Leadership Award in Innovation

Acknowledged in 2018, Krystal received this award for dedicating her free time in going above-and-beyond  assisting students to find career goals and aspirations within the field of safety. Krystal was presented this award at the ASSP Future Safety Leader's Conference in Lombard, IL.
Recipients are to answer this question for a change to receive the award: "Tell us your personal contributions over the last 12 months to strengthen your ASSP student section, chapter or the safety culture in your community. How were your individual efforts Innovative and unique?" This award is valued at $1, 625.
Undergraduate Research Project Finalist – Industrial Hygiene: Aerosol Combustion Byproduct Exposure in a Foundry
Out of 180 students who presented at the 2018 University of Wisconsin – Whitewater Undergraduate Research Day, I was awarded a finalist award, along with my co-partner, Stacey Lam, who did her Undergraduate Research Project on Carbon Monoxide Exposure in a Foundry.
Based in industrial hygiene, the project's purpose was to verify if the foundry's current ventilation system and work practice of opening the overhead doors were sufficient to not overexpose individuals to combustion byproducts during operations.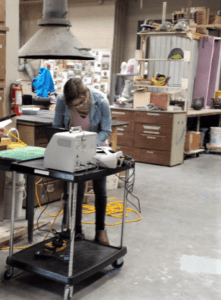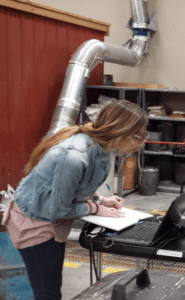 Undergraduate Research Advisor, Donna Vosburgh, captured pictures of me collecting data from the Nanoscan in support of the project. 
Undergraduate Research Project Presented at The University of Wisconsin – Whitewater's Undergraduate Research Day and the annual ASSP Safety 2018 Conference in San Antonio, Texas: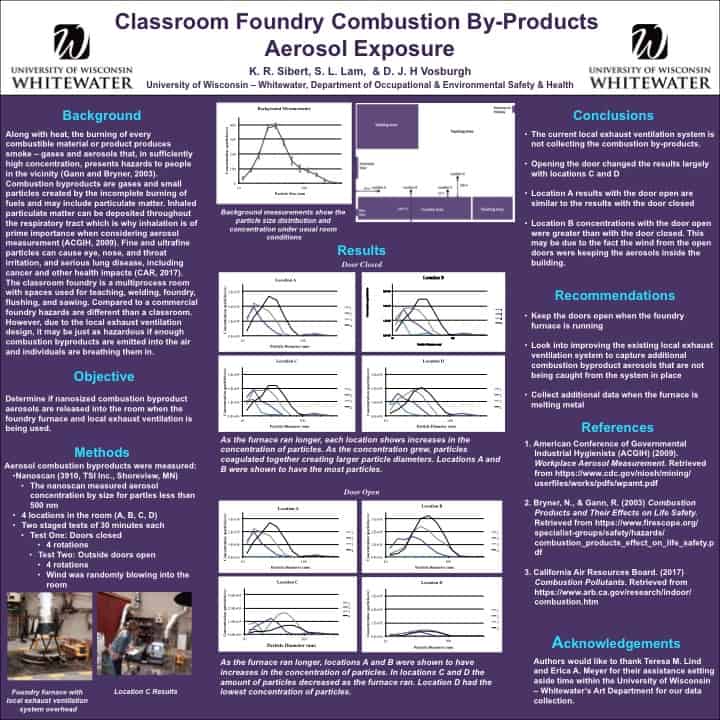 ASSE UPS Scholarship

The ASSP Foundation offers nearly 150 awards each year ranging from $500 to $15,000 each. More than 1,300 safety students and professionals have advanced their careers, thanks to the generosity of the safety community.
In 2018, Krystal was awarded the prestigious scholarship funded by Alexi Carli, who was the Vice President of Global Health & Safety for UPS. Krystal was presented this award with other award winners at Safety 2018 in San Antonio, Texas in front of over 10,000 safety professionals.
Recipients are required to answer a profile of comprehensive questions involving questions similar to: "What drew you to the field of safety and how has your education affected your views of the field?" "What leadership and volunteer positions have you taken within the safety community and what positions do you envision in the future?" "Describe your greatest takeaway from where you have interned." This award is valued at $5,250.
ASSE Wisconsin Chapter Scholarship

Each year, Wisconsin's Chapter of ASSE awards a student the Wisconsin Chapter Scholarship acknowledging their efforts for continued success within the field of Safety. In 2018, Krystal was awarded this scholarship by demonstrating her commitment to her professional development and advancement within the field of Safety.
The award requires recipients to write comprehensive essay questions on: "What are you doing in school to prepare for your career?" "What are your short-term and long-term goals?" "Describe how you plan to use the funds." This award is valued at $1,000.